Information Enabled provides fee-based professional consulting services to assess and improve customer's use of information.
Three Dimensional Information Assessment
| | |
| --- | --- |
| | Pinpoint your highest leverage improvement opportunities |
| | Quantify your current situation and accurately estimate any improvement's potential |
| | Gain buy-in through structured involvement of your stakeholders |
<![if !vml]>

<![endif]>Information Enabled assesses client information flow using a proven three-dimensional assessment approach. First, information facts will be gathered by measuring worst-case information flow speeds and synchronization mismatches by exercising existing client information channels. Second, a context with which to use the facts will be gathered through a combination of one-on-one client interviews and the application of IEI's proprietary Information Management Maturity Model (IMMMTM). Third, to ensure an industry-wide perspective, the client situation will be compared to Information Enabled's "best practice database". All three inputs are used to identify the critical few gaps and propose improvement approaches.
Set Meaningful Information Goals and Metrics
| | |
| --- | --- |
| | Unite your organization with a common information flow purpose and language |
| | Enhance information flow visibility for better management decisions |
| | Set and maintain durable standards for information capital |
The client's information is first compartmentalized into three levels of criticality and further discriminated into "Pull" vs. "Push" information types. An important, but often overlooked element of information measurement is information that is "escaping" or "aging" through personnel attrition, lack of adequate capture methods or sub-optimum access. Once all of the client's information has been identified as to criticality and type, performance goals are set based on the gaps indicated from the three dimensional assessment. Metrics and measurement systems will then be established to fully define and manage information flow. Simple software-based hooks, operating seamlessly in the background on the client's intranet and other information channels, will feed data to the information measurement systems.
A visual measure of information flow, the proprietary InfoSTARTM map, will be developed to provide management teams with an unambiguous view of their information performance. Recognizing that information flow effectiveness is often driven by human - machine interactions, a proprietary Information Skills Inventory (ISITM) will be developed. The ISITM will provide an objective means to quickly identify the client's organization and individual skill gaps in information flow, which can then be used to establish specific training and hiring needs. Further, this same skills inventory can be used to assess potential partners in a client's virtual design team or potential suppliers to the client for information-intensive products or services.
Implement Improvements Using "The Five Steps to Profit"
| | |
| --- | --- |
| | Systematic, repeatable improvement approach delivers results consistently |
| | Develop your internal capability for business change |
<![if !vml]>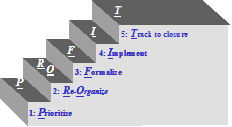 <![endif]>Once gaps have been identified through the three-dimensional assessment and measurement systems are in place to manage the change, a proprietary five-step model is employed to implement improvements. The PROFITTM Model uses a flexible toolbox of standard and customized methods to deeply seed information flow improvements.
The five steps in the PROFITTM model are: Prioritize information needs to the critical few. Re-Organize the critical needs into scheduled project tasks. Formalize action, risk mitigation and resource plans. Implement the plans in a series of focused workshops. Track plan metrics through closure while communicating interim decisions to all stakeholders.
Synchronize Information Flow Across The Extended Enterprise
| | |
| --- | --- |
| | Eliminate "wasted bandwidth" |
| | Dramatically increase the efficiency of virtual teams |
| | Reduce inventory, change management and personnel costs |
Information Enabled's clients need to synchronize information crossing company boundaries. Effective information synchronization to and from suppliers and customers at all tiers of the supply chain will have an immediate, beneficial effect on inventory levels and manufacturing performance. Still greater leverage can be achieved by enabling the use of virtual teams comprised of the "best of the best" across an extended enterprise of specialists, customers, partners and a worldwide supply chain. The primary barriers to effective use of virtual teams thus far have been effective flow, immediate access and information security.
Reference Accounts

Reference 1

Description of services provided

Reference 2

Description of services provided

Reference 3

Description of services provided

| | |
| --- | --- |
| Name | |
| Title | |
| Company | |
| Address | |
| E-mail | |
| Phone | |